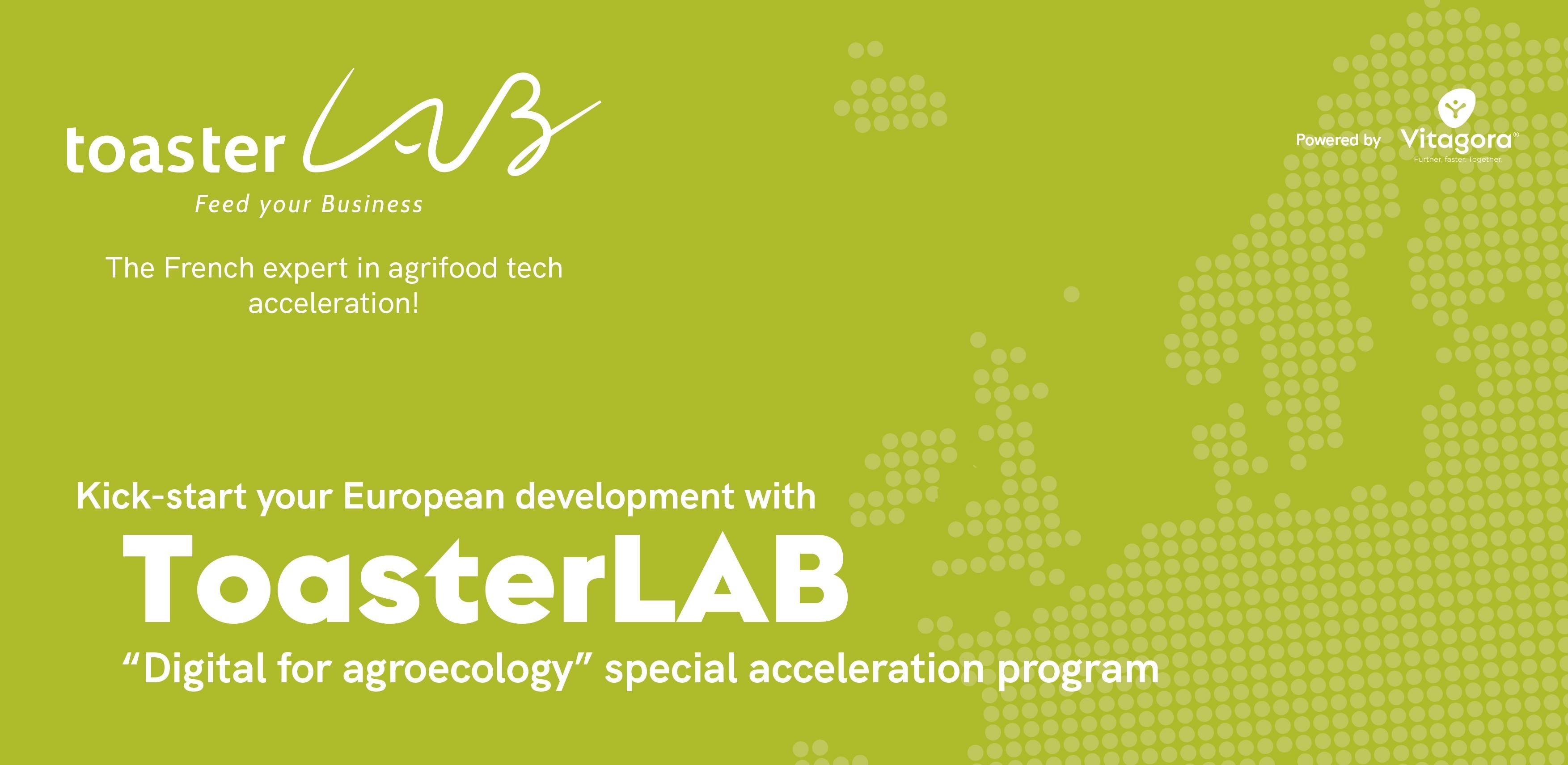 kick-start your european development:
Join the "digital for agroecology" special acceleration program by toasterlab
Scale-ups, start-ups and SMEs innovating in AgTech for B2B markets, apply to ToasterLAB's "Digital for agroecology" special acceleration program.
This 3-month acceleration program will get you the right business connections and the right expert support to boost your development in French and European markets.
FInd out more
ToasterLAB is a not-for-profit acceleration program powered by Vitagora, a leading European food innovation cluster. Applications are open to Agri-Food startups and SMEs from France and abroad.
Since its launch in 2016, ToasterLAB has accelerated over 60 start-ups and scale-ups. It is specialised in the needs of innovative agrifood companies, and gives access to a network of over 660 food business players in France and Europe, as well as a community of over 100 experts and mentors.
what you get
The "Digital for agroecology" special acceleration program by ToasterLAB begins with a 5-day intensive bootcamp in France, followed by 3 months of expert, on demand acceleration support. It also includes direct business connections with major manufacturers and investors.
It costs 3000€, with no equity taken.
Included in the program:
A 5-day intensive bootcamp, October 2nd to 6th, 2023 between Paris and Dijon, France (room, board and domestic travel included*):
- Coaching and expert advice on doing business in France and Europe, market opportunities for fermentation solutions, regulatory context…
- Strategic meetings (partners, mentors, experts, corporates, investors).
3-month acceleration coaching and on-demand support from the ToasterLAB startup manager and regular assistance from your mentor:
- A personalised action plan and implementation support
- Targeted advice from ToasterLAB's 100 experts in all areas (finance, management, HR, law etc.)
- One year membership to Vitagora, a leading European food innovation cluster (valued at 1134€).
*Travel costs to and from France not included in the price.
WHO CAN APPLY?
SMEs, Start-ups and scale-ups
Developing innovative solutions in agroecology and digital solutions for a sustainable agriculture
(intelligent irrigation, precision treatment using satellite mapping, social networks for sharing best practice, tools to help farmers implement agro-ecological practices)
With completed POC
Seeking support for development on the French market and visibility on the European market
Looking for support in structuring its business
French and international companies
how to apply?
Fill in the application form on F6S at: www.f6s.com/toasterlab-application-2023-agroecology
Application deadline for next intake
September 4th, 2023
Acceleration program begins
October 2nd, 2023 in Paris, France
WHO TO CONTACT
For any questions, please contact:
Clément Galbois, Business developer, clement.galbois@vitagora.com
+33 3 80 78 77 40