Startups have the reputation of working "lean'': rapid approval of the idea, rapid deployment, then rethinking based on hurdles or problems identified. Lather, rince and repeat until they get it right. The cycle of iterations, typical of a "lean startup", is what Scan'Up went through in order to settle on their current business model. They explain...
in the starting blocks: simplifying the drudgery of grocery shopping
A shopping list lef ton the fridge door, forgetting half of what you need at the supermarket, difficulty choosing before the vast aisles of products, deciphering packaging for non-experts...
ScanUp
came to be from the observation of its two founders, Adrien Dumitresco and Caroline Péchery, that "grocery shopping is a drudgery, a real pain!".
Thanks to a digital tool, Caroline and Adrien offered an answer to the 60% of French consumers for whom supermarket shopping is perceived as a chore (Source: Obsoco 2015). Caroline reminds us: "At the beginning of the Scan'Up adventure, our goal was only of improve the shopping experience thanks to a mobile app. This was to be free for users." And will remain that way, she adds. "However, we thought we would be able to generate commissions on delivery fees or offer paid premium services."
With a bit of distance, she recognises the limits of this initial
business model
: "I had to admit that even I 've never paid for an app! We knew something about this business model was off."
ItEration n°2 : Transparency, a selling point
"We needed to find a means of retaining users of the app in order to build a workable business model. The added value of our concept became the transparency that we offered consumers during their grocery shopping - or even before and after."
"We changed our positioning around this value: to go beyond a simple shopping assistant towards helping consumers in their choices, in particular towards the goal of eating better."
The app, previously a sort of "digital shopping list", gained in intelligence and complexity: beside the existing functions, such as reading product barcodes, information on the Nutriscore (a new system in France for grading food in terms of nutritional benefits) and information on additives, were added the options of searching for alternative products with better nutritional profiles.
The pivot (or the 2nd or 3rd): speaking to consumer-actors
Several months after the launch of their startup, ScanUp joined ToasterLAB (welcome to the club!).
"When we first arrived in ToasterLAB, with the contact with the
mentors
and during the
workshops
, we realised that our initial business model was never going to work," admits Caroline. Ouch. But it was a necessary blow to pivot towards something better.
"Since then, following contact with clients, users, mentors and the ToasterLAB team, our business model has changed - and is still changing as it's a work in progress."
A third iteration integrates, since the spring of 2018, the notion of consumer-actor. Caroline explains: "Consumers feel more and more invested and concerned by their purchasing choices. They are aware that the impact of these choices is not just about what they put in their fridge, but also mulitple consequences - on their health, on the environment, on the local economy etc."
"In order to respond to this desire to be an actor in the development of healthy and sustainable products, we are developing a new space in our app: a "co-building" space where brands can seek out the input of consumers," explains Caroline (find out more on the
blog article of Vitagora
- in French).
This third iteration has also allowed Scan'Up to create a new revenue stream: "the app will of course remain free for users. But for brands looking for direct feedback, we can offer a custom service of surveys, or with a subscription model. Our business model is now much more solid. We've made a lot of progress in the last few months!"
"We are now better aligned with our own goals and with the market. And we are now starting to generate sustainable revenue," concludes Caroline.
SEE THE VIDEO INTERVIEW
Since it's always better to let them speak for themselves and what they got out of their acceleration with ToasterLAB, feel free to have a look at the
video interview with Caroline and Adrien
(in French, but you can activate the English subtitles in YouTube).
By Claire VO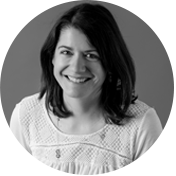 ToasterLAB Program Manager, Claire "VO" is in charge of our start-ups' post-acceleration as well as intrapreneurship. After 12 years with Vitagora, Claire's unparalleled knowledge of our network is put to good use while integrating our startups into the food business ecosystem! E-mail her at:
claire.vanoverstraeten@vitagora.com