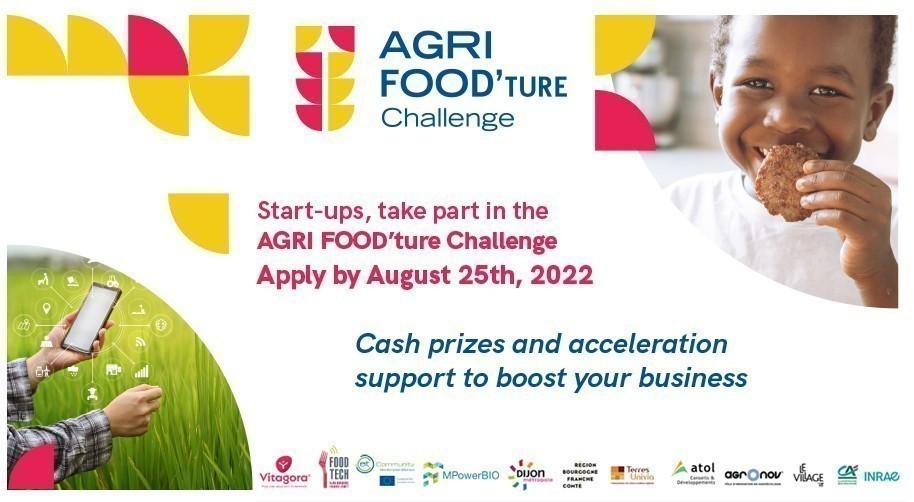 The Agrifood'ture Challenge - an international pitch contest for innovative agrifood start-ups and SMEs!
With the goal of supporting the development of innovative solutions in favour of healthy, sustainable food adapted to consumer usages, Vitagora FoodTech Dijon Bourgogne-Franche-Comté, EIT Food and MPowerBIO have launched the Agrifood'Ture Challenge, a pitch contest for innovative start-ups. The final of this contes twill take place on September 15th, 2022, in Dijon. Winners will gain access to cash prizes and acceleration support packages to boost their development in European agrifood markets, as well as valuable visibility within a dynamic food innovation ecosystem.

The Agrifood'ture Challenge is organised with the support of various partners: Dijon Métropole, the Burgundy-Franche-Comté region, Terres Univia, Atol C&D, Agronov, Le Village by CA and Crédit Agricole Champagne-Bourgogne and INRAE.
Apply to the Agrifood'ture Challenge here: https://agrifoodture-challenge.com/
Or download the flyer for the application call.
What is the Agrifood'ture Challenge?
The Agrifood'Ture Challenge has the goal of mobilising a vast and dynamic food innovation ecosystem in order to identify and support the development of innovative, high potential start-ups and SMEs.

In order to meet the needs of innovative food start-ups, the Agrifood'Ture Challenge offers winners access to resources for scaling up their commercial and industrial activities, direct business connections with a network of over 650 agrifood organisations throughout Europe, as well as cash prizes of 3000€ per winner, provided by EIT Food. In addition, special prizes will be awarded providing free access to the ToasterLAB acceleration program, provided by Vitagora, and a free seat at MPowerBIO's Final Event, the Tech Tour Bioeconomy 2022, provided by MPowerBio.

ADDRESSING THE URGENT NEEDS OF THE AGRIFOOD INDUSTRY
To win, start-ups and SMEs will pitch their business project, addressing one of the following industry challenges:
Agroecological farming practices – fewer chemical inputs, decarbonation, optimising use of natural resources, biodiversity etc.
The protein transition – plant-based foods and other innovative protein sources, addressing consumer preferences and usages
The circular economy and reducing food waste - designing out waste and environmental impact by keeping products and materials in use, creating new resources from discarded materials
Digital smart systems for addressing new agrifood business or consumer expectations – traceability, safety, transparency, co-building foods and services
The solutions presented can be technologies, experimental practices, food products or ingredients, communication solutions etc. and must address the needs of players throughout the agrifood value chain: farmers, food manufacturers, food retailers, consumers etc.

The winning projects will be selected for their ability to present a compelling solution and real impact in terms of the sustainability of the agrifood industry, as well as the innovativeness and the business potential of their projects.

Deadline for Agrifood'ture Challenge applications: Thursday August 25th, 2022
The contest rules, selection criteria, prize lists and application form are available on https://agrifoodture-challenge.com/
The final will take place on September 14th and 15th, 2022 in Dijon, France.
The final is open to all agrifood industry professionals.
Registration is open on https://agrifoodture-challenge.com/
Contact
Kévin André: kevin.andre@vitagora.com
Mobile: +33 674 16 69 90

The Agrifood'ture Challenge is organised by


With the support of