Arsenic, lead, copper, mercury... The presence of heavy metals is a public health risk and a major challenge for ensuring the health of agricultural soil. Ludovic Vincent, agri-food engineer and founder of the start-up Biomede, aims to help farmers remove certain heavy metals from the soils, naturally.
After testing their concept, first in the laboratory, then directly in the field, Ludovic and his co-founder developed Biomede, a start-up accelerated by ToasterLAB in 2019. They are now ready to deploy their solution in France: removing heavy metal pollution from agricultural soil... using plants! When nature provides a solution, innovation can (often) be a question of common sense.
"invisible pollution" in soils
While heavy metals can be toxic at varying doses for humans, fauna and flora, they are naturally present in the soil, in particular in certain rocks from the Jurassic era. Their presence is also amplified by human activity, especially since the beginning of the industrial revolution 200 years ago.
"It is an invisible problem that presents the risks of creating a sort of toxic cocktail, and that can end up in our water and food supply," explains Ludovic Vincent, agri-food engineer by training and the co-founder of Biomede.
In France, 80% of soils contain contaminants in varying quantities, and 230,000 sites are considered to be dangerously polluted by heavy metals.
geological and human time scales are not the same
During my conversation with Ludovic, I was suprised to learn that soil pollution can be quite old. "In fact, our current practices are much safer for the soil than those from 50 years ago," he explains.
For Ludovic, the historical nature of soil contamination should not be seen as an excuse for inaction. The problem is very much in the present. The fact is that a geological time scale is not the same as that of human activity. "A soil whose ecosystem has been upset will take centuries to regenerate. The millions of microorganisms that it contains are unable to rebuild themselves in the space of only a few years."
So, how do we sustainably, and naturally, regenerate soil? Ludovic Vincent first encountered the subject when questioned by a farmer in 2016. Together with his co-founder, a specialist in biotech and a doctor of cancerology, they developed a start-up based on phytoremediation.
Diagnosing, sowing, and depolluting
Ludovic Vincent explains his surprisingly simple concept: "Phytoremediation is a solution that works well with agricultural soils by preserving them for farming use."
"The concept has several stages. First, we carry out a diagnostic of the area. This is essential to work out what to do next as we need to know the types and quantities of heavy metals in the soil. For that, we use an X-ray machine that lets us map out the contaminants."
Then comes the second stage: "According to the metals present, we adapt a mix of depolluting plants." These plants, known as HYP, or "hyperaccumulators", are selected for their ability to extract the pollutants from the soil.
"Nature is very efficient!", laughs Ludovic.
Ecological transition, a collective approach
While he sees Biomede as an impactful solution, Ludovic Vincent remains humble on the role that his company can play in transitioning to more ecological farming practices.
"Innovators, producers, farmers, consumers... There is a time limit for putting in place environmentally sustainable production that will require us all to work together, for generations to come. We need to develop tools and solutions. With Biomede, we are targeting soil health. But there are many other areas to be addressed. We absolutely need a collective approach."
He also recognises the crucial role of farmers. "Agriculture is the first sector to be concerned by the ecological transition. It is both where the damage is felt (through climate change, for example) and where solutions can be put in place."
Considering the current boom in start-ups such as those of Biomede, agricultural innovation promises to be a major source of those solutions.
Accelerate your agtech projects!
By taking part in the ToasterLAB acceleration program, Ludovic says he has learned "heaps of useful stuff. Mentors, experts, other start-ups: ther advice and experiences where hugely useful for our development."
If your start-up or innovative SME has ambition but needs a helping hand with expert knowledge in agri-food, you can apply now for the next intake of ToasterLAB.
Go here to apply, or contact me: clement.galbois@vitagora.com.
By Clément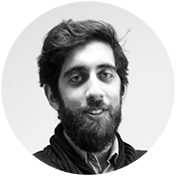 Business Developer and "start-up back-up" as he likes to call himself, Clément was immersed in world of start-ups before joining the ToasterLAB team. A keen volonteer for a number of evironmental causes that he holds dear, Clément is the main point of contact for ToasterLAB's start-ups. Contact him: : clement.galbois@vitagora.com.